melita66
In May, I finally finished Joel Shepherd's late Cassandra Kresnov book,
Originator
. Kresnov is a cyborg (artificial person?) who fled her creators in the League and has made a home for herself on Callay, a Federation planet. More cyborgs have ended up there and many are getting high government positions. While Tanushan society is relatively liberal, the pressures are building. The League is having trouble with societies going haywire which turns out to be due to using alien technology in their implants and networking technology. Kresnov and her kin aren't effected by it (as much). There is much interdepartmental maneuvering and politicking between various groups and more is revealed of the aliens. Kresnov has also adopted three orphans she found in a previous book and is finding strange new feelings arising in her relationships with them. Generally very fast-paced stories with a lot going on. Kresnov's been powering up quite a bit, which I'm eh about. Recommended, but start with the first book,
Crossover
.
I then decided to read Katherine Addison's
The Goblin Emperor
as it's a Hugo nominee. I was iffy about reading it based on several reviews that I'd seen. I did enjoy it a lot, and hope that she writes more in this world. I didn't think it was great! the way some do, and will rank it below
Ancillary Sword
. In a world filled with elves and goblins, the elvish emperor married among others, a goblin for political reasons. She gave birth to a boy, who was several down in the order of inheritance. After his mother's death, he was exiled to a distant estate with a guardian who hated him. As a late teenager, his father and all the heirs ahead of him are killed in an airship crash. The reviled, innocent Maia has to navigate a complex court and try to keep from being killed himself. It was very interesting to see Maia try to navigate the court, and still try true to himself. He does find a few allies, but some bitter betrayals as well.
While waiting for the second Raksura collection by Martha Wells to arrive, I re-read the trilogy,
The Cloud Roads
,
The Serpent Sea
, and
The Siren Depths
. What can I say again? I really, really like these books, and hope Wells will be able to publish more in the future. I think there are no contracts for more, unfortunately. The collection,
Stories of the Raksure II: The Dead City and The Dark Earth Below
, are novellas. The first takes place just after Moon fled the city of Saraseil after it was taken over (and consumed) by the Fell. Moon had been orphaned as a child and didn't know what race he was. The Fell were the first ones that he'd see that looked similar. He soon realized they weren't his people, and fled. The settlement that he winds up in is menaced by "miners" and a second race that have come to fight the miners for control of a city buried underneath the jungle. "Mimesis" is a story about Jade and was previously published. "The Dark Earth Below" takes place as Jade is about to give birth. The Kek, a frail vegetarian race that lives on the forest flow below Indigo Cloud colony (set high in a giant tree), have asked the Raksura to help find some missing members. They end up finding an airship with injured people. How they got injured is the mystery they have to solve. Another very good collection from Wells.
While poking around on Amazon looking for Kindle ebooks, I came across a self-published collection by Jennifer Roberson with two stories in her Tiger and Del series. The first one, "The Lady and the Tiger", which has a lovely twist if you aren't familiar with the series. "Rite of Passage" is set sometime early during the series when they take a commission to retrieve an important man's son.
Finally, I just raced through Andy Weir's
The Martian
. Set in the near future, the main character Mark Watney is a member of Ares 3, the first manned mission to set foot on Mars. A disaster takes over the mission, Watney is injured and presumed dead, and the rest of the crew flee the planet. As it turns out, he isn't, and aided by his mechanical engineer/botanist background, tries to figure out how he can survive for 4 years until Ares 4 arrives. Communications are out, so he thinks no one realizes that he's alive. Within a few months, NASA does realize, and a wild, all-out-effort starts to try to rescue him. Totally a geek book, full of techno-speak. As many have pointed out, the characterizations are shallow at best, but hey! that's not what the books about. I don't remember if I saw this xkcd cartoon before I started reading it or not, but it sums up the book pretty good.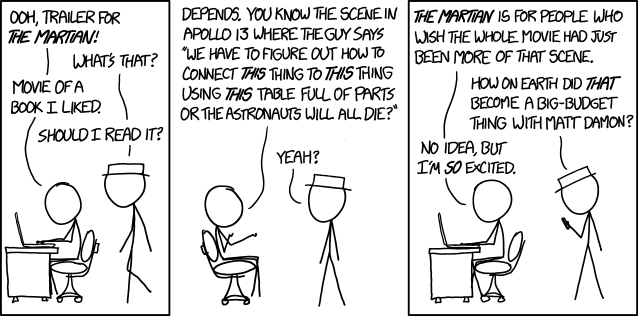 If you like this kind of thing, loads and loads of fun. There was one instance when someone on earth goes, hmmm, and starts calculating. I guessed what it was! That was nice. Later, the announcement that the idea was going to be followed through on was announced with, "XX XX is a steely-eyed missile man" and I started laughing and shouted, Apollo 13!